Paste a url where
this mod
can be downloaded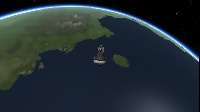 Description
Fly the Kerbal mock-up of the first rocket that propelled Americans into orbit.¨¨Essentially no roll program is needed. Burn straight up untill you are in the the thinest part of the atmosphere, then perfom a 23 degree burn for a few seconds, then throttle down. Turn to 90 degrees and burn. Enough fuel is provided to get you into LKO with none to spare, so don't waste it! Use the monoprop engines to de-orbit.¨¨Have a safe flight!
A stock rocket called Mercury Atlas-D Rocket. Built with 60 of the finest parts, its root part is mk1pod.
Built in the VAB in KSP version 1.0.5.
Details
Type: VAB
Class: ship
Part Count: 60
Pure Stock
Do you really want to downvote this?
Don't forget, people build craft at all skill levels, just 'cos something is 'newbish' doesn't mean it needs hatin'.
It will cost you 5 of your own points to downvote
So only downvote craft that are totally unusable, not the craft pictured or have NSFW content with it.
(if the craft gets taken down you'll get your points back)