Paste a url where
this mod
can be downloaded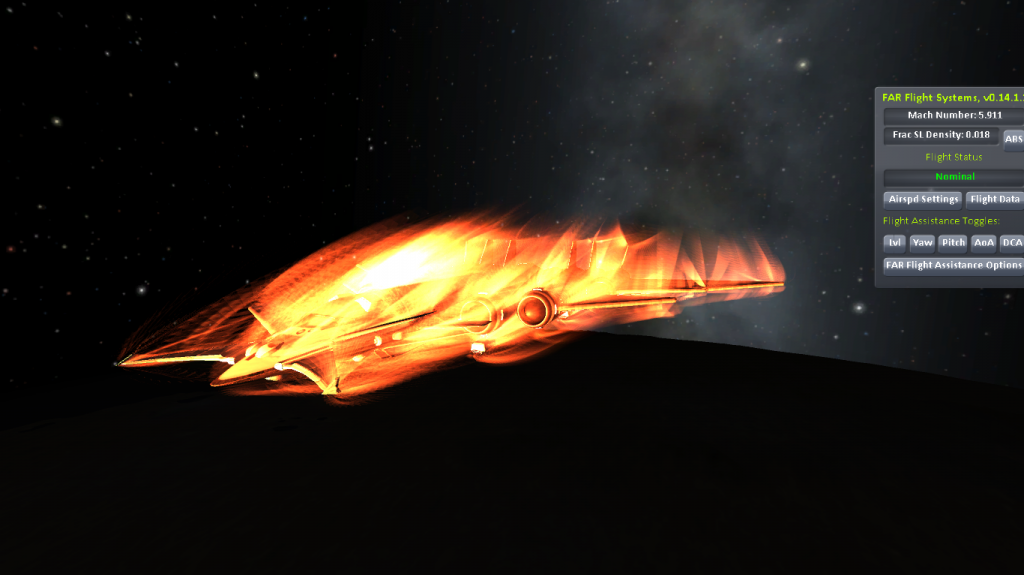 Details
Type: SPH
Style: spaceplane
Part Count: 170
Mods: 4
Mods
FerramAerospaceResearch
KerbPaint
SpaceplanePlus
Squad (stock)
Are you finding that you're spending a fortune on rockets just so you can keep your orbital refuelling stations supplied? Would you like to be able to lift more fuel than a Rockomax 64 into orbit for just a few thousand √? Then you need the Kerbodyne Wedgetail…
As usual, check the action groups and save the Vernors for when you need them. It can take off without them, but you may find it easier to lift the nose with them on. Deactivate Vernors when docking; the RCS ports are balanced, but the Vernors aren't.
Trim the flaps back down to normal after you lift off, and use a fairly normal ascent profile: 30°-45° to 20,000m then a medium-slow climb to 30,000m. Turn the RAPIERs off as soon as they switch to closed cycle and don't turn them back on until the turbojets start to choke. Leave the turbojets on for the final ascent; there are plenty of intakes to feed them once the RAPIERs stop hogging all the air.
Do you really want to downvote this?
Don't forget, people build craft at all skill levels, just 'cos something is 'newbish' doesn't mean it needs hatin'.
It will cost you 5 of your own points to downvote
So only downvote craft that are totally unusable, not the craft pictured or have NSFW content with it.
(if the craft gets taken down you'll get your points back)