Paste a url where
this mod
can be downloaded
Details
Type: SPH
Class: spaceplane
Part Count: 104
Pure Stock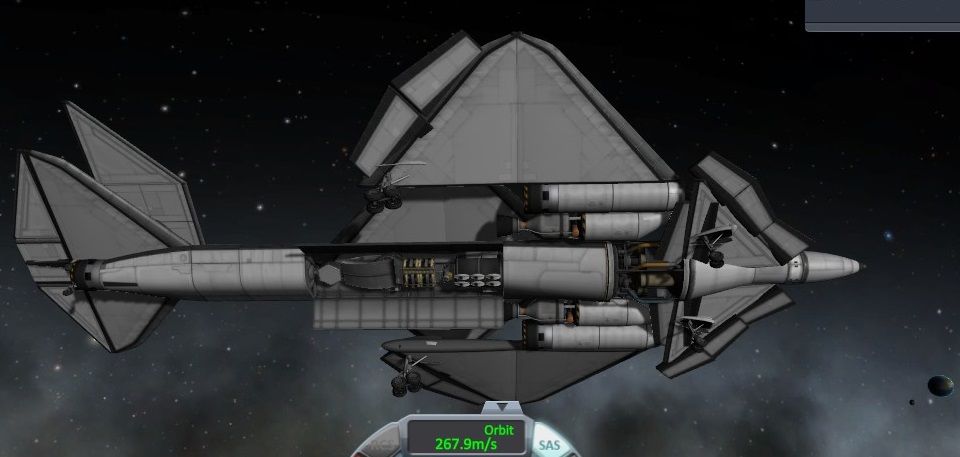 ISRU spaceplane that can single stage to Minmus and Duna.
Features -
Sleeping accomodation for flight crew (mk2 crew cabin)
Docking port
Vernier lift engines
RTG electrical power for missions to outer planets
Action Groups
1 - switch centreline Rapier between Closed Cycle and AirBreathing modes
2 - toggle NERV
Flight profile
Designed for hand flying with pitch trim in the atmosphere.
Trim the craft for approx 3 degree AoA and climb subsonic to 10km+
Reduce nose up trim and toggle on Nukes briefly to accelerate to 400m/s
At around 1300 m/s and 22km restart the nukes and leave them on.
By around 25km use action group 1 to switch mode on centreline Rapier
Landing on Duna -
Final approach at 70-100m/s. RCS on when under 1000m AGL.
For the final 50m or so, start holding down full nose up elevator and control descent rate to under 5m/s by tapping K (translate UP with Vernier motors)
Do you really want to downvote this?
Don't forget, people build craft at all skill levels, just 'cos something is 'newbish' doesn't mean it needs hatin'.
It will cost you 5 of your own points to downvote
So only downvote craft that are totally unusable, not the craft pictured or have NSFW content with it.
(if the craft gets taken down you'll get your points back)